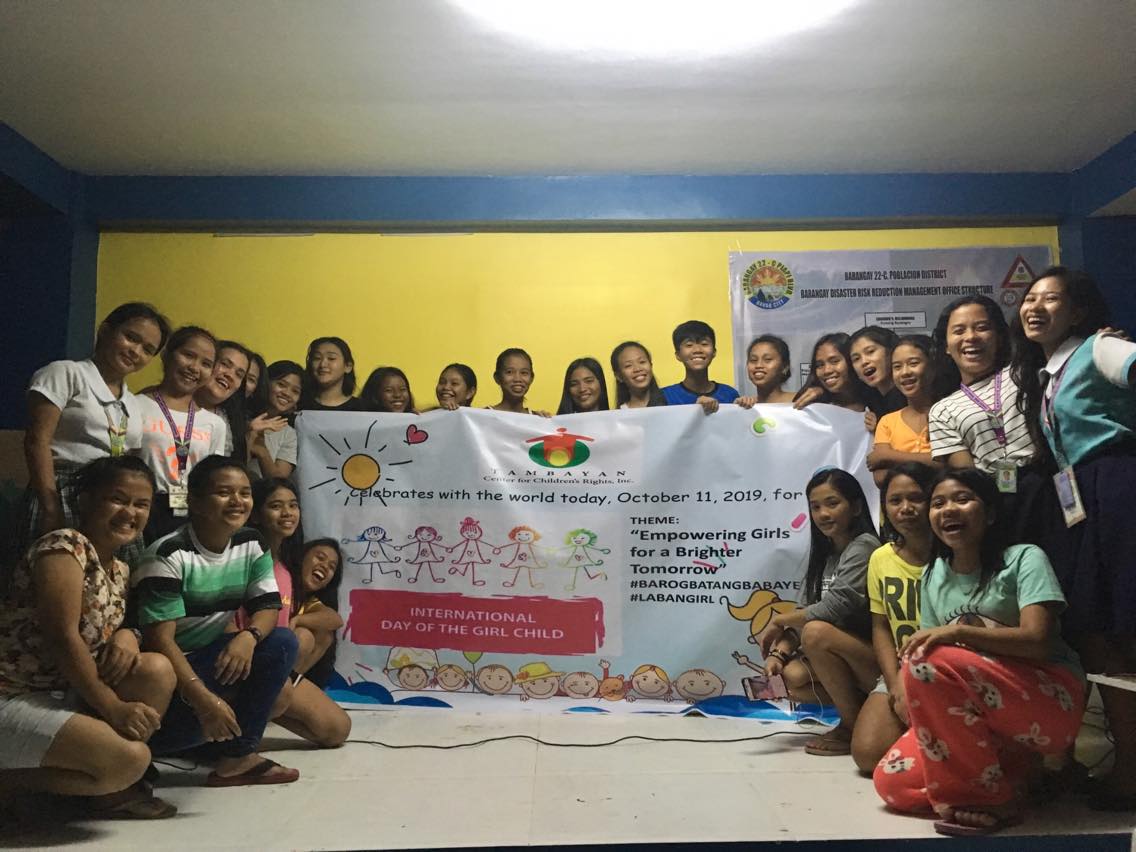 Last October 11, 2019, Friday, Tambayan Center for Children's Rights, Inc. celebrated International Day of the Girl Child with our partner children. The day could not be more relevant to the current situation of girls in the city, especially those coming from urban poor communities. Despite developments on female empowerment and gender equality, discrimination, bias, and abuses still linger for girl children. To emphasize the theme of the event, we used the hashtags #BarogBatangBabaye and #LABANGIRL to remind them that their essence has always involved fighting against the structures that try to oppress them. During the event, issues and how girls would want to advocate to address them were discussed with thirty-four children. The highly discussed issues include the human rights violations toward those roaming the streets beyond curfew hour (including the recent Bunal Squad), reproductive health concerns, and gender based violence in the form of harrasment and rape.
The"Davao Bunal Squad" incidents saw men covered in masks and riding unplaqued vehicles go down the streets and hit loiterers or "tambays" outside roaming beyond curfew hour. It was widely reported in social media just last month however "Bunal" or Hitting has long been employed as a measure to get rid of loiterers, usually minors on the streets at night. This methods have been employed by dutybearers we are supposed to trust such as police, tanods, and even barangay officials. These cases have been experienced by some of our partner girl children. But unlike with some recorded incidents of the Bunal Squad, none of the experiences of the girl children were caught on video.  As far as the children are concerned, they shared that the measures only instilled temporary fear instead of discipline and only perpetuated violence in the community.  
The children also cited Early Teen Pregnancy as a recurring problem. City Health Office declared that out of all the cities nationwide, Davao City has the highest teen pregnancy rate in 2018(1). All the girls consulted knew of someone who got pregnant at a young age. This affects girls' health and schooling. Girls expressed factors which influence this include frequent exposure to sex, whether at home or through media, lack of knowledge, and curiosity.
One girl added "Ang ubang lalaki mag take advantage sa curiosity sa babae. Salig sila kay walay mawala sa ilaha.""Some boys take advantage of the girls' curiosity. They're complacent since they have nothing to lose.",which emphasized the power dynamics involved in sex, where the girl usually ends up bearing the brunt of avoiding teen pregnancy even if the boy is involved in sex. The girls call that they do not want to bear the responsibility alone. They want the boys to be involved in helping reduce teen pregnancy and other reproductive health concerns as well. The girls recognized that a lot of children are already sexually active but do not have the knowledge when it comes to safe sex practices or even the negative repercussions on having sex at an early age.
With the discussed issues involving abuses on the streets and teen pregnancy, the girls  really really want dutybearers to be involved on the following:
Stop all forms of abuse, especially for those caught beyond the curfew hour. Investigate those perpetuating abuses.
Provide information to young people when it comes to sex, discuss its implications and promote safe sex that not only involves girls but also boys. 
(1) https://www.sunstar.com.ph/article/1822279
This article came out in the #YouveGotMail Section of SunStar Davao last October 17, 2019.